Christmas > Holiday Butterfly
Holiday Butterfly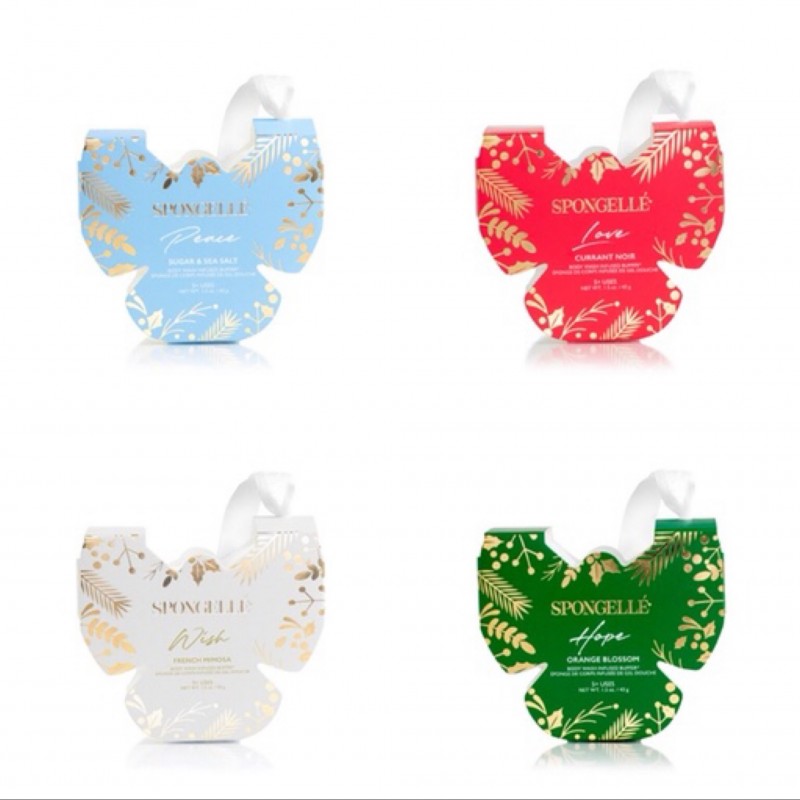 Featuring a nostalgic seasonal scents, the Spongellé Holiday Butterfly Ornaments have been designed to evoke precious festive memories and heighten anticipation for the big day.
The giftable body wash infused angel buffer is specially formulated to cleanse, exfoliate, massage and nourish, from neck to toe. Spongellé's unique body wash infused buffers change instantly as you squeeze under running water, from a sensual exfoliating massage texture to as soft as silk. The propriety infusion technology cleverly triggers time-released lather which guarantees a minimum of 5+ washes.
Accepted on all major airlines, nothing to spill, nothing to break, and everything you need for soft, gorgeously fragranced skin. Perfect for seasonal vacations, business trips, or to take to the gym. Transport it in the handy Spongellé Travel Case. The eye-catching design and beautiful fragrance also make it a charming Christmas gift.
Dermatologist tested and vegan-friendly.

Peace - Sugar + Sea Salt (Blue)
Top notes: lime, bergamot leaf, lemon
Heart notes: ginger, cardamom
Base notes: mate, osmanthus
Love - Currant Noir (Red)
Top notes: citrus nuances, solar accord
Heart notes: midnight jasmine, ylang ylang, freesia, muguet, neroli
Base notes: musk

Wish - French Mimosa (White)
Top notes: warm spices
Heart notes: moonflower, narcissus
Base notes: golden amber, musk
Hope - Orange Blossom (Green)
Top notes: cinnamon bark, clove
Heart notes: navel orange
Base notes: amber, sweet musk

Directions

Place buffer under running water, squeeze to absorb. Massage in a circular motion to cleanse skin. Rinse and squeeze out excess water after each use.

Ribbon can be unsnapped and used to hang sponge in shower. To attach ribbon to sponge, unsnap ribbon from packaging and attach through hole located at the top of the sponge.
---
Scent
Add to basket